Customer Reviews
Write a Review
Ask a Question
VERY HAPPY with DIY Detective Party Game
We used the DIY Detective Party Game for my daughter's 7th birthday party. The package was EXCELLENT and so worth paying for. The kids had a lot of fun running from puzzle to puzzle and figuring out the clues. These kids were a few years younger than the minimum suggested age on the guidelines, so I made a few adaptions to ensure that they wouldn't get frustrated and the mystery-solving would keep a good pace (e.g. I marked off which way was "up" on all the blue puzzle pieces; pre-decoded half of the green secret message) and I stayed with them the whole time to gently nudge in the right direction. Everyone was so impressed and it made for a great party that we could host right at home. Thank you!
07/04/2022
Olga K.

United States
Great ideas for creative parents
This review is for "Detective Party Game - Case of the Mystery Box!". First of all, let me say that my son loved his 14th birthday party we had yesterday, with this game being the highlight. We hosted 5 boys ages 13-14 and one of the guests brought his younger brother who was around 10. I've been doing treasure hunt games for my son and his friends for years and I know how much work it takes to prepare a game that is coherent and hiccups-proof. However, it was the first time I actually purchased a game set. What can I say? It definitely decreased the amount of preparation but it's NOT 'print and go'. I actually extended the plot of the game with a scavenger hunt part in a way that I hid the riddle cards on the grounds of our condo complex, with a map pointing to the next stash in each envelop. It took me several evening walks to find good stashes, an hour or so to prepare the envelopes, and one late night walk to hide everything. For the part covered by this game set, here is some advise to future buyers: 1. I printed the set at a local print store, asked them to print on cardboard. 2. I used a big storage box with a small padlock and a Master Lock 5400EC Lock Box where I put the key. I already had all that at home, did not have to buy. 3. I was surprised to find out that grape juice concentrate can be found in the freezer section at Walmart. 4. I experimented with the baking soda and grape juice in advance to figure out what type of paper would work best (thick cardboard), how exactly to draw with the baking soda solution (light touch is enough, don't need to do a whole layer of baking soda or to rub it in), how long it takes to fully dry out (overnight), etc. Note that you can glue a sheet of paper with the invisible number 11 to the purple card. After several tries everything worked like a charm, the kids got very clear blue digits on the pink background. But the host needs practice. 5. Because my kids already had all cards in their hands, they quickly self-organized into groups to solve the riddles in parallel. What happened next was quite unexpected for me. While the bigger boys were thinking and discussing and searching, the youngest one (the little brother) sat next to the master lock and started to crack the code. When four puzzles were solved and two digits provided - it took him just a minute to find the other two! I'm in mixed feelings about it: they made it, opened the mystery box. They had tremendous fun. But they did not solve all the puzzles. The advise here is either be prepared to such outcome or moderate the game by giving out one card at a time, or both.
06/16/2022
Emma Z.

Australia
Great product
Really easy to work with and was exactly what I was after! Age appropriate and easy to set up.
06/13/2022
William C.

Canada
Kids loved it.
The kids loved it.
03/31/2022
Michelle B.

United States
Family Fun
It was different to do an escape room instead of a scavenger hunt and we enjoyed it. The task with grape juice didn't work for us but we still had fun trying.
03/20/2022
Shantelle S.

Canada
So much fun!
I purchased the Detective Party Game for my son's 10th birthday party. There were 13 kids ranging in age from 7 to 10 and they all had a blast solving the riddles to crack the code! The only thing I would improve on that is purely cosmetic is that the red and orange clues/border colours weren't typical shades of red or orange (more of a dark maroon and a mustardy yellow than red and orange) so the colour-coordinated envelopes I made to hold the clues weren't as easy to identify which clue they went with but we made it work. Other than that, some of the clues were trickier than I had expected but that was good as it kept them busy for longer. I would definitely use these party games again in the future. Thanks!
12/12/2021
Amy S.

United States
Super fun
I get games every year for Christmas. My kids love it and it keeps them busy for a couple of hours.
11/27/2021
Natasha B.

Canada
Birthday party
Amazing my twins will be so excited
11/09/2021
Andrea E.

Canada
Case of the Mystery Box
This was my favorite game yet that we've purchased. (I've previously purchased about 5 games). We love escape rooms and I set it up similarly. I also tweaked 2 of the clues to make it more interesting. For the purple clue (invisible ink) we've done before. I find it messy and obvious...the kids often can see the baking soda without the juice. So I used a mirror and stencils and they had pieces of the word eleven written on the paper backwards and on the mirror with mirror marker they had the missing parts of the letters to line up to read the word. I love this trick. I would prefer a version like this made by you because it was tricky to do but I think you could do it by sending the two copies - one to stencil or copy onto the mirror. The other change was on the gold/brown clue. Instead of writing the number 3 on the bottom of the shoe in visible pen, I used one of the kids spy pens that has ink which glows under black light. I also hid some clues in a lockable kit (most first aid kits have 2 zippers that can be locked together.) I hid the key and this was an additional clue that made it more 'escape room' in nature. Loved it.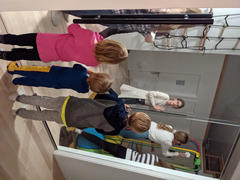 11/07/2021
Leslie D.

United States
Halloween party fun!
I have purchased several games and my family has enjoyed them all. This Halloween treasure hunt was my latest purchase and the kids had a blast at our party. Currently looking to add one for Christmas party.
Queen of Theme Party Games
Detective Party Game - Case of the Mystery Box!
Regular price
$ 12.99
$ 0.00
Unit price
per
Tax included.
Our printable kids / teens (ages 10-16) detective party kit makes it easy-peasy to create your own  detective mystery party game. It is a lot like an at home teen / kids Escape Room game, except instead of trying to escape the room they are trying to get the code to unlock the " mystery box" full of goodies / prizes. The game itself has 8 different challenges that once all solved will lead players to discover the four digit code they need open the lock on the mystery box.
---