Customer Reviews
Write a Review
Ask a Question
11/28/2023
Leslie B.

United States
Christmas Shenanigans Party Game Show
Had a blast - game work really well and was lots of fun!
01/25/2023
Lindsay U.

United States
Fun for all ages!
My college students as well as my younger children all enjoyed these games. They were easy to implement and fun!
01/17/2023
Rebecca M.

United States
This was a blast!
This was a very fun game, no regrets! There were only a few minor glitches with the points on screen not matching the instructions. But easy enough to improvise.
01/13/2023
Taunia J.

United States
01/13/2023
Kelly B.

Canada
Christmas Family Feud
The game was a big hit with my family. It was very easy to set up and use. I put it on my smart tv and everyone could see the questions, etc. I didn't have buzzers. I used a stuffed animal and the person who grabbed it first got to answer first. The buzzers might have been easier to use, but I didn't want to spend $40 for 2 buzzers. This is my second purchase from the Queen of Themes.
11/21/2022
Eleanor N.

United States
Picture Scramble
Awesome. The kids loved it!
02/24/2022
Stacy R.

United States
Christmas Shenanigans
We played this with two different groups. The first was at work with the paraprofessionals who work in my classroom (10 people) and the second group was a group of neighbors we have over for a Christmas party annually (24 people). Equally fun with both groups! The game is so easy to set up. There is some work involved in prepping the paper materials for the game but easy to do while I watched some tv. I loved that although all of the components are ready to go, I could tailor the game to my needs. This is the second game I've purchased and I will definitely be purchasing another in the future! Thanks!
02/06/2022
Kristina S.

United States
Fun fun!
Well written and fun to do.
02/02/2022
Zandi H.

United States
So much fun!!!
We started playing christmas games a few years ago and keep adding each year. Stumbled across this game and was the best one yet. It pairs trivia with competitive stunts and fun for all ages. I had a little trouble connecting to my TV, and when I did get it to work, it stopped working correctly on my computer screen when it was not connected. But, when I connected back to TV, it worked fine. Not sure why that happened. Overall, was great fun. We didn't get through all of the second round but had a blast. I think I'm going to ask to change up some of the minute-to-win it type of competitions for next year.
01/04/2022
Kristen L.

United States
Kitt is THE BEST!
The Christmas Shenanigans game was a blast. We used it Christmas morning so my boys had to earn points to open presents. My children loved competing against each other. Everything was flawless! This is the third game I have purchased. Kitt was so helpful and easy to work with when I needed some modifications for the game! Highly recommend all of her games!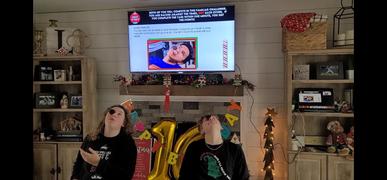 PartyGamesPlus
Christmas Shenanigans Party Game Show - PowerPoint
Regular price
$ 14.99
$ 0.00
Unit price
per
Tax included.
---