Customer Reviews
Write a Review
Ask a Question
10/29/2023
Josh P.

Canada
Zombie success!!!
Was used as a teenager game during a big Halloween party. What an amazing time. Watching them run away when a zombie found their name, all while trying to figure out the trivia. They all had a blast. Another great creation!
07/22/2021
Mindy V.

United States
Zombie Apocalypse Trivia Treasure Hunt - Review
At first, after reading the rules & instructions we did not understand the rules because there were quite detailed. But after printing out the images and cutting them out, slowly following the instructions and hiding the clues and answers; the kids truly had a fun time running around in the backyard looking for the next clue. The questions were a bit out of date compared to the z-generation zombie apocalypse but the kids sure enjoyed the challenge! Great scavenger game! I'd definitely would purchase again!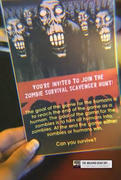 11/13/2019
Bernadette E.

United States
Great Hunt
This hunt was well received. We played with two teams of humans and one zombie. I didn't know exactly how many people were coming to my party so I asked everyone to put their names on a zombie card and I had them hide the cards. So I ended up being the first zombie! It was nice to get to participate too. We ended up with one team of two people winning and one team of 3 lived but they didn't win. The rest were zombies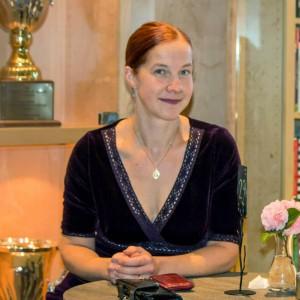 LL
04/14/2018
Letitia L.
Well thought out - perfect!
This was great - well thought out, just difficult enough that the game lasted long enough! Thanks for adding the fantastic fun to our party!
Party Games Plus Does it Again!
Purchased this game for a Sweet 16 with 27 teens. As suggested, we doubled the game to make it more manageable. Everything we needed was included. We had double sets of everything and the envelopes were different colors so that they wouldn't get mixed up. The girls had a ton of fun playing the game. This is my second scavenger game purchase. The first was for my tween daughter 5 years ago and this was for her BFF. The games are ageless. I highly recommend any of the hunts and games if my experience is anything to go by
Fun party game!
We played this at a recent Halloween bonfire with about 10 guests. It was fairly easy to set up and both adults and children enjoyed it. It took us about 30 minutes to play. If playing outside, I would recommend putting zombie cards in bright colored envelopes as we had a lot of trouble finding the cards because they blended in so well, causing us to overlook most of them. Overall, the game was a lot of fun for everyone!
Zombies
I used this item in a classroom and the kiddos loved it!!
PartyGamesPlus
Zombie Apocalypse Trivia Treasure Hunt
Regular price
$ 13.99
$ 0.00
Unit price
per
Tax included.
Our printable Zombie Apocalypse game is a survivor trivia scavenger hunt that comes with everything you need to set up and play. Find out which of your friends have what it takes to survive a zombie attack and which ones are sitting zombie bait!

HOW IT'S PLAYED:

In our printable zombie scavenger hunt players have to answer questions that test their knowledge of zombies and apocalypse survival skills. Each correct answer on the trivia question cards leads to the next trivia clue, then the next. Continuing until all 12 challenges have been passed. The last clue leads to a a safe haven (perhaps a treasure, prize, or simply bragging rights) The only goal of the game is to make it to the safe haven without becoming a zombie.

WHAT ALL IS INCLUDED IN THE DOWNLOAD?

Complete Instructions
Zombie Trivia Clue Questions
Wrong Answer Cards
Zombie Tags
Winner Card
Editable Clue Locator Sheets
Editable Party Invitations - To edit just click on the default text using adobe reader and replace with your own. 5x7
~ITEM AVAILABLE FOR INSTANT DOWNLOAD UPON PURCHASE! ~
---